Christmas 2014
With Christmas now fast approaching,we hope you have a lovely Christmas and wish you a healthy and happy New Year.
Both Charles and Jonathan have been incredibly busy with all those clients who really, really, really want to be in their new homes by Christmas! Whilst this is completely understandable, we do wonder with the annual last minute completions what wins in the 'opening stakes', the boxes of possessions or the presents from Father Christmas! I guess it doesn't really matter, the main thing is to find a minute or two to relax and celebrate!
Lily again sat beautifully for our charity Christmas card and in doing so she has helped the Cinnamon Trust and the wonderful work they do for the elderly and ill and their pets. Perched on a box in the garden, the only bribe needed was a small toffee! We are often asked what breed she is; the answer is that she is a cross which some call a 'labradoodle'.Her mum is a black labrador and dad is a white standard poodle and they produced a litter of wonderfully laid back, kind dogs, most of whom went on to be assistance dogs for teenagers. Lily is sometimes invited to accompany Jonathan when he goes to see clients who are unable to have a dog of their own anymore. She is also amazingly tolerant of the dogs who come here, accompanying their owners to see the solicitor and even shares her Boneos!
With the year drawing to a close, we would like to thank our clients for their continued support and recommendations. We are proud of the service we provide, a qualified solicitor acting for every client at every stage of every matter. We offer a traditional service and are recommended because our phones are normally answered until at least 7pm during the week, Jonathan and Charles both see clients in the evenings, we don't charge extra for home visits and the only people who work on our client's files are Jonathan and Charles as fully qualified solicitors.
This does of course lead to one problem in that if we want to expand Corfield Solicitors, we need another solicitor who happens to be called Corfield - help is on the way in the form of Stuart! Now in his third year of his law degree, when he's home from uni he's a blessing on reception and acting as 'office assistant' covering 101 tasks and freeing me up to take the odd break. The only downside for Jonathan in working with his sons, is that occasionally when clients call they inadvertently ask for "old Mr Corfield"! Not great when you're still in your 50's!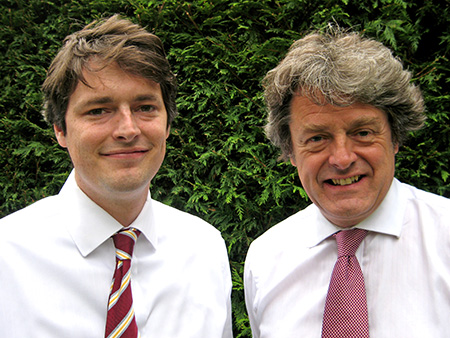 As a small practice taking any time off is difficult, we have therefore decided to have a break and not open between Christmas and New Year. We will close at 1pm on 23rd December and re-open at 8.30 on Monday 5th 2015. Clearly if there are any last minute conveyancing problems Jonathan will of course deal with them during this time, oh the joys of running your own business!
Have a lovely Christmas and we look forward to acting for you in the New Year.